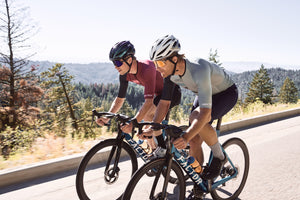 We aim to create and offer the most technical and beauitful jerseys out there. A mixture of classic modern looks, reflective safety, and performance fabrics.
Suit - Long Sleeve
The perfect addition as the weather cools down.
Based from our favorite Suit Jersey, this long sleeve version boasts all the same reflective features and with slightly larger pockets as we know you'll need to carry more in basemile season.
Suit Reflective
Our mission for the Suit Jersey was to
create the safest high performance light weight cycling jersey on the market.
Suitable for long high-performance training
rides with the huge benefit of massive high visibility panels while still being
stylish and understated.
Action Jersey
We wanted a specification that provided the
rider with the ultimate light weight jersey, perfect for hot summer rides and
the intensity of a race.
Made 100% from pure Italian fabric genius.
Echelon Jersey
Taking its creative direction from one of
the toughest riding formations in a ride, the result of dreaded cross winds. The
objective was a no compromise high compression race fit jersey that means pure
performance.